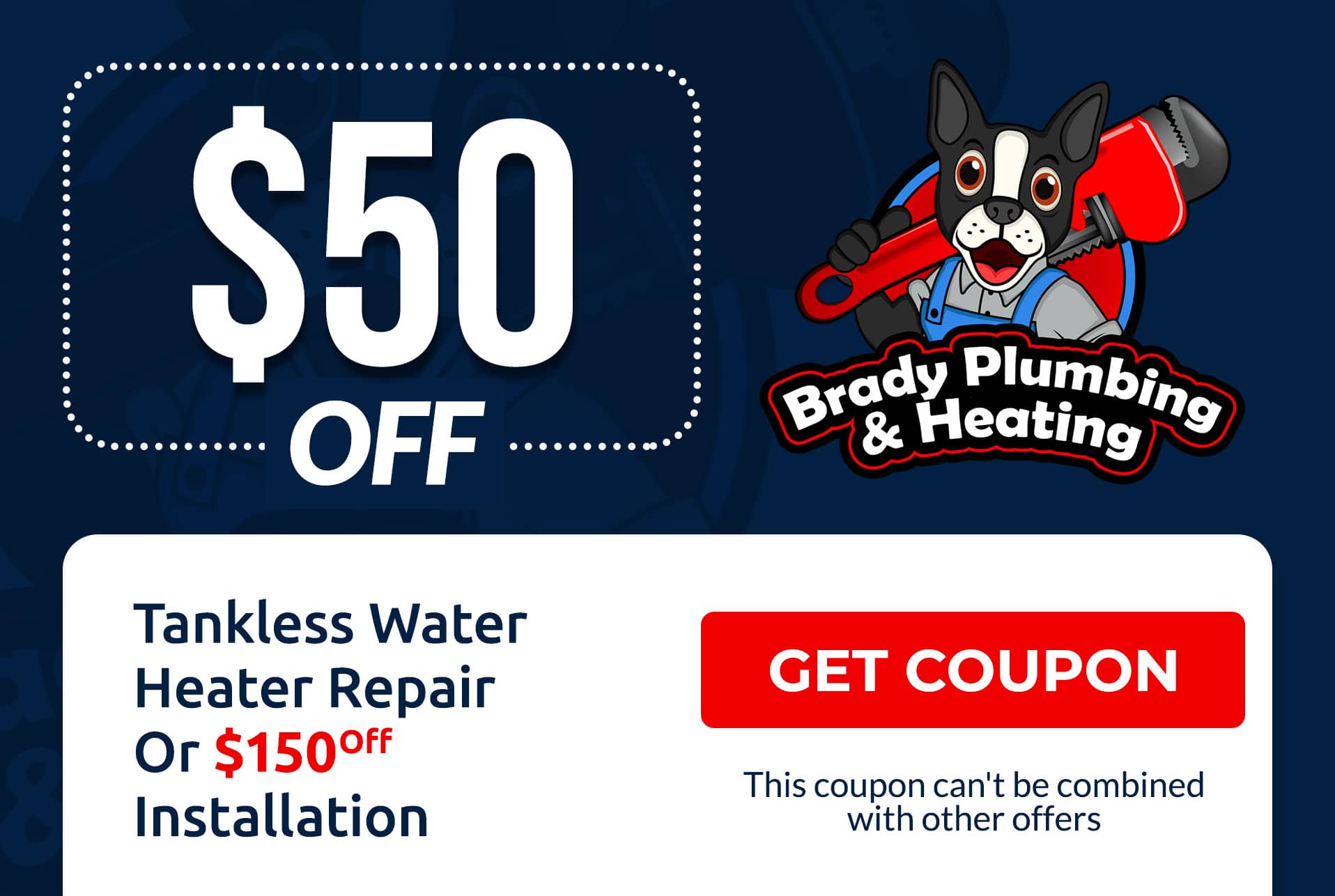 High Efficiency Tankless Water Heaters in the Greater New Hampshire Area
Brady Plumbing & Heating is a family owned and operated company with more than 20 years of experience in traditional and tankless water heaters. 
Tankless water heaters have increased in popularity in recent years for their high efficiency ratings and supply of endless hot water. We specialize in Rinnai for their high quality products, exceptional warranties, and customer service. 
Tankless water heaters are compact and can be installed on the interior or exterior of the property and come with many additional benefits: 
Energy Efficient –

Tankless water heaters heat water on demand. It does not mean instant hot water, but it does equate to high energy efficiency. Since the system is not constantly heating and cooling unused water, homeowners can save on utility costs.

 
Clean Water & No Floods

– Sediment settles in tanks and is then circulated through your home damaging pipes and in the water supply. Since tankless water heaters do not store water, it is always as fresh as when it enters your home supply. And with no water in the system, there is no risk of flooding and water damage.

 
Endless Hot Water

–  Hello long and luxurious showers. Never run out of hot water again — Ideal for individuals and large families. You will always have hot water when you need it most.

 

Extended Warranties

– Tankless water heaters warranties begin at 10 years and some come with a 12 year warranty whereas traditional water heaters often have a 6 year standard warranty. They can also be repaired with ease, as they have individual components that can be replaced if failure occurs instead of replacing the entire system.

 
Annual Water Heater Flush 
To keep both traditional and tankless water heaters in prime working condition, it is important to schedule an annual water heater flush each year. 
It will keep sediment from settling in tank water heaters and stop hard water from corroding tankless water heater components.
As a family owned and operated company, we are committed to delivering exceptional customer service. Our team will treat you like family, perform all services to the highest standards, and protect your property at all times. 
Call a plumber you can trust and build a relationship with. Choose Brady Plumbing & Heating for the best tankless water heaters in the greater New Hampshire area. Call 603-738-9207 to learn more or to schedule your service.